A fulfillment center that can delight customers and impress stockholders is critical to leading retail companies looking for a first-place finish in today's extremely competitive and demanding digital-commerce environment. Whether you are planning to add a new fulfillment center to your network or reengineering an existing center, there are five principles that will help ensure that your operation hugs the curves of volatility and roars through the straightaways of peak volume demand.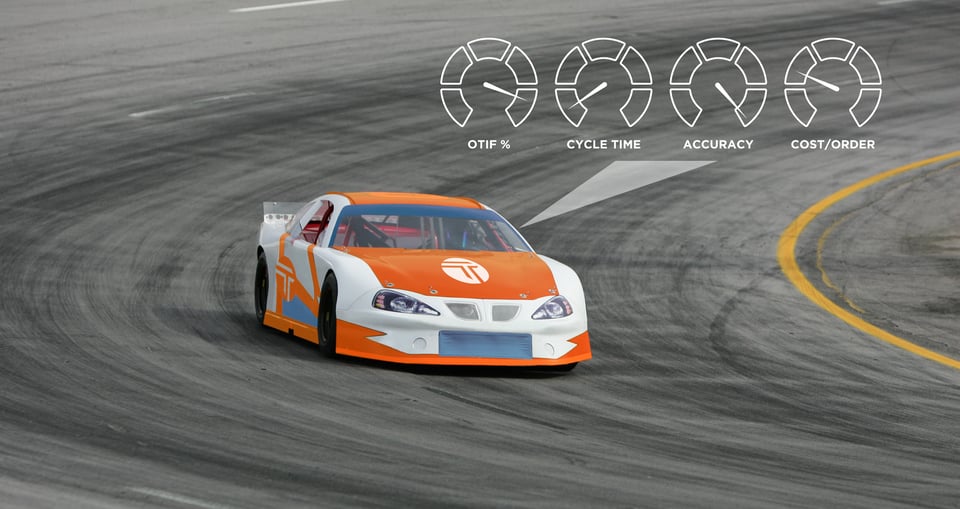 1. Start with meaningful data insights
One of the most important foundations of any fulfillment solution design is data. Everyone knows to gather and analyze the basic order files, inventory snapshots, SKU master, receiving data, and outbound shipment information. It is an overwhelming amount of data. So overwhelming, that some often stop once they have identified the averages, percentiles, etc., within the basic order profile, avg to peak factor, storage composition, and forward pick media assessment. These basics are important, but it's the next step that makes the numbers reveal the design challenges. This step reveals events, their frequency of occurrence, and the impact they can have on a solution and its ability to adapt. When they occur, these events are often capable of wreaking havoc on the performance of your operation. Closely examine order composition variability. When batching work, understand the probability of consistency. Quarantine, don't ignore, the outliers. How often did they occur, when, and what is the likelihood of reoccurrence?
2. Cascade design decisions
Before any technologies or solutions are considered, it is critical that the Three-Tiers of Design Decisions are understood and appreciated. The Three-Tiers are:
Strategic business goals and long-term supply chain vision over the long-term horizon

for channelization, growth, SKU proliferation, customer promise, and order management.




Tactical objectives for the medium-term such as

financial and inventory

models, logistics plans,

labor plans, and technology strategies.




Day-to-day operational requirements for staffing models, break/lunch coverage, order availability windows, cut-off times, and performance metrics.
The decisions made at the Strategic level should be cascaded down to the Tactical, and so on down to the Operational in order to prevent misalignment that could lead to an ill-wise solution that is not capable of performing and/or adapting to the requirements of the business.
3. Give KEY qualitative benefits a place at the ROI table
Too often, fulfillment solution decisions are made solely on a labor model, TCO, or ROI that does not capture the qualitative benefits of metrics that drive high-performing fulfillment centers in today's world of digital-retail.
Order Cycle Time – with volumes of thousands of orders per hour and hundreds of thousands of units shipped per day, batching some level of work tasks is the "go to" for most fulfillment solutions. However, the time that it takes to complete an order from beginning to end should not fall victim to perceived batch efficiencies.




Customer Promise – Digital consumers expect their purchases to arrive almost immediately at their

doorstep

and in perfect condition.

If they can't or don't get that from one company, they will easily move on to the next company who can. Retail leaders have learned that customer promise is more important than it

has ever been

. The "promise" continues to grow tentacles in multiple directions such as delivery time, personalization, giftwrap, kitting, and loyalty rewards programs. None of these can be handled in the same manner within the fulfillment center. And the fluctuation in volumes for each is beyond significant.




Exception Probability and Exception Compounding Factor –

T

he reality is that things happen. Inventory counts are occasionally incorrect, the wrong item

s

or

wrong quantities

of the correct item

are selected

,

and

product gets damaged. These

cause

exceptions.

M

any labor hours are spent

handling

exception

s

each day in a fulfillment center.

T

echnologies such as scan verification, pick-to-image, weigh checking, and vision systems can help reduce exceptions. However, more importantly

,

is the Exception Compounding Factor. This is the number of times

an exception gets passed to a downstream process before it is discovered and resolved. The labor, time, and difficulty of resolution gets compounded each time an exception goes beyond the process in which it was created. An effective design will include methods that minimizes exception handling and doesn't release tasks that can't be completed.
Designing a solution that can flex and adapt to these requirements should be key to the solution- selection business model.
4. Design for flow optimization and flexibility
The heartbeat of a race car is the engine. Having the right amount of oil flowing to the bearings and fuel going to the injectors at the right time, is critical for the engine to supply instantaneous power to the drive components. The same is true with the flow of orders and materials through a fulfillment center. To be high performing, the solution needs materials and orders to flow evenly and continuously from process to process, optimizing resource capacity and availability.
Subsystems within an automated solution should be designed to handle the inconsistent volume exchange that will occur between processes due to changing task content and complexity. Therefore, automation should be treated as "servants" and not "masters" that dictate flows that can stall upstream process and flood or starve those that are downstream. To accomplish this, it is critical that the design skillfully include a Warehouse Execution System that will orchestrate tasks, manage to resource availability and leverage the full capacity.
5. Be honest about your "real" labor situation
Regardless of the market, labor is one of the largest challenges facing fulfillment centers today. However, if the design challenge is diluted down to simply "reduce headcount" then the delivered solution may leave the operation floundering and unable to execute as planned.
First, value the difference between an attrition problem and an attraction problem. If associates are leaving because the work environment or tasks are too strenuous, then the design should consider methods or technologies to remove those circumstances so that people stay. If you simply cannot hire enough people for any and all tasks, then evaluate the solution that lowers the reliance on labor.
Second, be very careful not to wear the labor "blindfold." Typical justification cases are built upon total annual labor costs which boils down to "average day." Solutions that solve the labor problem on the "average day" could leave you with a deep hole in your operation, a splintered order flow fret with exceptions, and a significant spike in indirect labor costs as you scramble to hire, train, and staff enough people for the peak day.
Lastly, be good leaders, mentors, and examples for everyone in your fulfillment solution. Labor shortage or not, treating people with kindness will always be the more productive and right thing to do.

As fulfillment leaders, whether you are just completing a project, amid a design project, or in the early planning phase, it's never too late to incorporate these principles into your team. They are also insightful when used to evaluate existing systems. While your mechanical automation may be in place, these principles will reveal opportunities for automation improvement and Warehouse Execution Software intelligence.
"It is not always possible to be the best, but it is always possible to improve your own performance."
Jackie Stewart, Formula One racing driver nicknamed the "Flying Scot"