There are many applications in distribution, fulfillment, and manufacturing environments that require products to be edge-aligned to one side of conveyor such as pre- and post-merge, print and apply, preparation for sorter or machine inductions, and other vital automation applications.
Trew's Series 1500 Skew Bed is another re-imagined module in the Series 1500 conveyor platform that solves these applications using zero pressure accumulation maintaining gaps between products.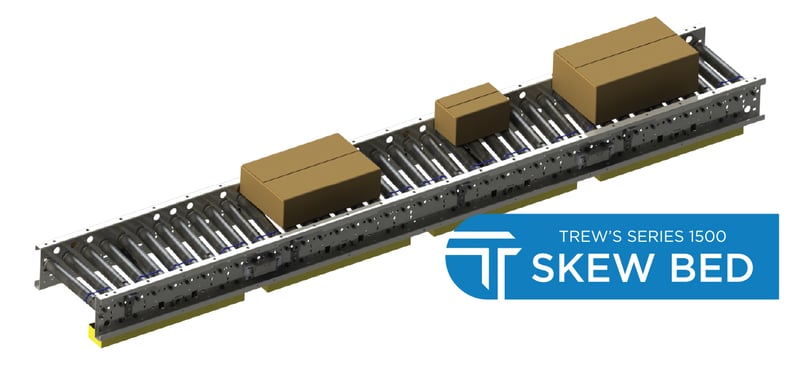 The Series 1500 Skew Bed operates by fanning the rollers in relation to product flow. The result is that product downstream of the module is "skewed," or justified to one side. Unlike other solutions, our design uses a standard sized roller in a line shaft configuration to produce quality performance with a reduced number of spare parts and simplified maintenance.

The Series 1500 MDR conveyor platform provides:
Energy savings: MDR design only operates when product is present and flowing
Quiet operation: All-electric run-on demand operation as low as

55 dB(A) depending on the application

Easy maintenance: Reduced number of spare parts and easy access
Quick installation: Arrives at site with pre-wired with connectorized quick-connects to surrounding modules
Flexible architecture: Cost-effective ASi design uses cable-piercing technology that simplifies installation and provides flexibility as your system grows or changes