Print and apply and scanning applications are simple applications that bring great ROI to most operations. But if they don't work well due to no reads or poor label application, they can wreak havoc. Ensuring that product is conveyed well, without movement, is key to making these solutions work.
Trew's Series 1500 MDR Belted Scan Bed, another re-imagined module in the Series 1500 conveyor platform, is designed specifically for print and apply and/or scanning applications.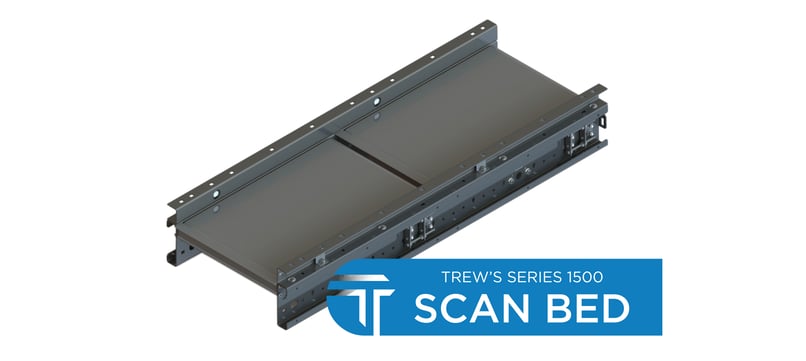 The Series 1500 Scan Bed operates similarly to Series 1500 MDR Belted Intermediates, but with shorter sections and a high friction belt that prevents product from moving, maintaining alignment. Designed to easily mount ancillary print and scan equipment, the Series 1500 Scan Bed is pre-wired and assembled, leaving only the mounting of the scanner for installation.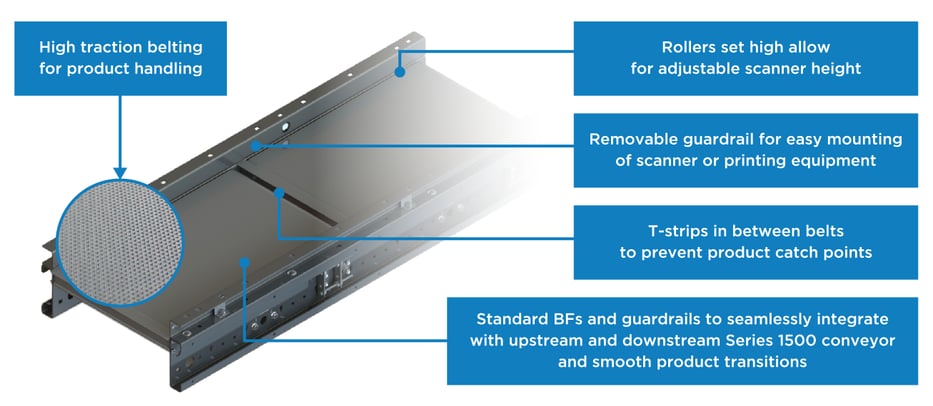 The Series 1500 Scan Bed conveyor platform provides:
Removable guardrail for easy mounting of scanner or printing equipment

High traction belting for product handling

Standard BFs and guardrails to seamlessly integrate with upstream and downstream Series 1500 conveyor

Rollers Set High (RSH) - Allow for adjustable scanner height

T-strips in between belts to prevent product catch points and allow for smooth transitions
Considering a system that has a scanner or print and apply? Review our cut sheet, linked here, or fill out the form below.